Quality and Certification
Our motto: Quality worth the price!

Commitment is a substantial part of our success. When working with TPS GmbH, you can count on honest and reputable advice which only promises what it can really deliver: the highest standard of quality, a reliable realization in every single link of the production chain, adherence to delivery dates, and a loyal and honest relationship with business partners. We are sure that you too appreciate these attributes, and we look forward to hearing from you.
In order to continuously ensure our high degree of quality standards, TPS GmbH works with the quality management system according to DIN EN ISO 9001:2008 and with the environmental management system DIN EN ISO 14001:2009. We have successfully implemented both certifications and have integrated them in our process flow.
The scope of our certifications comprises the production and trade of custom parts in the areas of propulsion, sheet metal, turning and milling technology. Precision is therefore not only a general principal and our corporate philosophy, but also a substantial part of our daily work.
Awarded the Quality Management Certificate DIN EN ISO 9001:2008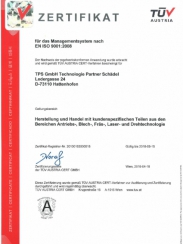 Awarded the Environmental Management Certificate DIN EN ISO 14001:2009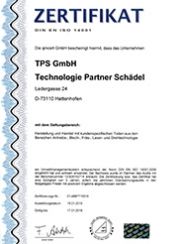 Certificate DIN ISO/TS 16949